First-Rate Design On A Desktop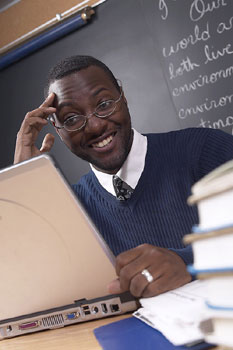 Looking good with graphics; keeping computers tuned up; finding documents that have slipped from view.
Many businesses and individuals have discovered their creative side thanks to desktop publishing software. These programs give people the tools to create their own fliers, newsletters, and signs that combine text, graphics, and photos.
But something has been missing. Professional publishing programs generally require users to be adept at graphics and design. Programs for novices have been easier to use, but they produced lower-quality designs.
As a result, there has been a lack of good software for the sales and marketing specialists, administrative assistants, and other employees whose task is to make their companies look good.
Change is on the way, though, thanks to programs such as PageMaker Plus from Adobe Systems Inc. in San Jose, Calif., and Publisher 2000 from Microsoft Corp. in Redmond, Wash. Each program is loaded with tools to help businesses produce high-quality designs on their own.
PageMaker helped launch desktop publishing, and it continues to be regarded by professional designers as a market leader But for years it was difficult for nondesigners to use.
Now Adobe has created a version for businesses called PageMaker Plus. It incorporates both professional design tools and ease-of-use features. Available for both Macintosh and PCs, PageMaker Plus comes with an array of templates and on-screen "wizards" that lead users through the process of creating professional-quality documents.
The Windows version of PageMaker Plus has a template and picture "palette" that lets users select PageMaker design templates and images. This template system also lets users organize content from other applications such as word-processing programs. PageMaker Plus comes with more than 4,700 stock illustrations and 300 high-resolution photos that users can insert into their documents.
For further ease of use, the software has an icon-based tool bar with links to commonly used features and commands. In addition, PageMaker Plus can convert files for people who have previously used Microsoft Publisher, allowing them to reuse their old designs and templates.
PageMaker Plus comes with a limited-edition version of Adobe's Photoshop photo-editing software, which lets users enhance photos before inserting them into PageMaker documents.
Publisher 2000 (Microsoft Corp., 1-800-426-9400, www.microsoft.com); $99.
Microsoft is answering Adobe by enhancing Publisher 2000, its desktop publishing software for nonprofessionals. Publisher 2000, which will be included in the Office 2000 Small Business Edition productivity-software suite due in June, has been enhanced to make it easier to create well-designed documents,
People familiar with Office applications such as Microsoft Word should find it simple to create documents in Publisher or enhance documents started in Word--the two products have nearly identical interfaces and tool bars. But if users run into trouble, the software will volunteer advice and assistance through its integrated but sometimes overeager Office Assistant help system.
The software's publishing tools have been improved, enabling novice users to make documents that look more professional. There are more than 2,000 publication templates for documents such as brochures, catalogs, fliers, newsletters, and World Wide Web sites. (Publisher 2000 can instantly convert documents created with the software into Web pages.) The software has "master style" design sets that ensure consistency of appearance in a company's documents.
Publisher 2000's quick-publication feature offers 50 design and layout options for creating one-page documents. It also provides 78 specialty-paper publication templates for printing with black-and-white laser or color inkjet printers on various media.
In addition, there's a wizard that helps users save their documents to disks that can be taken to a commercial printer
Preventing Problems Through Basic Computer Maintenance
Just as a car needs periodic maintenance to keep it running, so does a PC. With continual use, computers are affected by viruses, software conflicts, and an array of technical glitches. A little ongoing maintenance can prevent big problems in the future. The following software can help.
Norton SystemWorks (Symantec Corp., 1-877-469-7467, www.symantec.com); $69.95 for Standard Edition, $99.95 for Professional Edition.
Symantec has created a suite of applications for keeping a company's PCs working and for preventing problems before they become too severe. Norton SystemWorks incorporates the firm's Norton AntiVirus, CleanSweep, CrashGuard, and Utilities software, plus some bonus Symantec programs.
Norton System Works doesn't just pack a bunch of applications in a box; it provides a centralized menu for launching them. These applications can also be used simultaneously And, using the Web, you can constantly update each application by clicking on an update button.
Norton AntiVirus, a leader in antivirus software, can protect against all known computer viruses, including macro viruses that infect documents in Microsoft Access, Excel, and Word. Norton CleanSweep lets users remove unwanted programs and files from their hard disks.
Norton CrashGuard protects PCs from failure by detecting and attempting to ward off potential problems. If problems do occur, CrashGuard tries to fix them, and it can recover data that may have been lost.
Symantec's flagship product, Norton Utilities, is an essential toolbox for fixing and maintaining software and hardware.
Norton SystemWorks Standard Edition comes with a suite of software, including a year 2000 problem-detection program, mobile computing software, fax software, and pcAnywhere Express remote-access software.
The Professional Edition adds a full version of Norton 2000 year 2000 software and Norton Ghost, which lets users copy the contents and configuration of one hard disk onto other PCs. Both versions include a six-month subscription to Symantec's Web-services Web site, which provides maintenance tools and updates.
Panda AntiVirus Platinum (Panda Software, 415-392-5850, www.pandasoftware.com); $59.
Just when it appeared that users had only two choices of antivirus software, from Spain arrives Panda Software's AntiVirus Platinum, an industrial-strength package that can rid PCs of the peskiest computer viruses.
Norton's AntiVirus and the MacAfee VirusShield from Network Associates Inc. may dominate the U.S. antivirus market, but Panda's software is popular in Europe, and the current version debuts in the United States with technology designed to make PCs safe from Internet-borne viruses.
Panda AntiVirus Platinum can detect and disinfect viruses transmitted through Internet e-mail attachments and files as they are downloaded, preventing them from being stored in a PC's short-term memory or from being inadvertently opened before detection.
The software is particularly useful when used - with Microsoft's Outlook email software or Exchange messaging software. The program also protects against virus-like ActiveX and Java applets--programs that can be embedded in Web pages and that users can download inadvertently when they view a page. Applets can alter a PC's hard disk, infect applications and data, and even reconfigure a PC's Internet connections.
In addition to offering Internet protections, Panda's software can ward off more than 20,000 viruses from a PC's hard disk or memory.
Each day, users can receive automated updates from Panda's virus-detection database via the Internet.
Finding It Right Where You Stored It
Do you sometimes have trouble finding information stored on your PC? If you're like most computer users, the answer is yes. From time to time the information you really need is nowhere to be found.
The following products are designed to help small-business people quickly locate vital information such as contact phone numbers, business letters, invoices, and email.
DragStrip (Aladdin Systems Inc., 831-761-6200, www.aladdinsys.com); $20.
Macintosh users who are looking for an inexpensive and easy way to organize the information on their desktops should consider DragStrip. It provides single-click access to all files, Web addresses, and software applications on a user's desktop by arranging them within desktop icons called palettes.
DragStrip eliminates the need to wade through a cumbersome array of file windows or menus to locate information, files, and programs. Instead, the user creates palettes by dragging files and application icons onto the desired icon. To get a file or application, the user clicks on the appropriate palette and makes a selection from one of its tabbed pages.
DragStrip can be downloaded from Aladdin Systems' Web site. A Windows version is in the works.