Turns a high school computer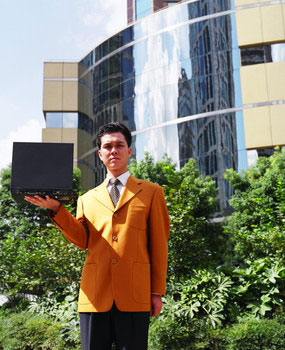 Bill Finlay took an unconventional path to becoming the owner of a thriving wooden hot tub business. He started out as a software engineer and then spent nine years as a high school math and computer teacher.
But it was his love of woodworking that brought him to where he is today. "Woodworking had been a hobby, a lifelong interest," says Finlay, now owner of SeaOtter WoodWorks in Haines, Alaska.
Living in Seattle and working for a software firm, Finlay had the urge to get away from big-city life and get back to nature. He soon found himself in a small town in Alaska. It was there he fell into his teaching gig, thanks to his software expertise.
"Because of my computer background, they offered me a job," he explains. "It was around the time they were starting up their computer classes, and I was the most qualified person in town."
But Finlay's love of woodworking never left him. On weekends and during summer vacations, he would tackle an array of projects.
"I did a lot of furniture building, then small boats, canoes and kayaks," he recalls. "I toyed with the idea of building them as a commercial venture, but knew I'd have a hard time selling them for what they were worth. A hand-built boat takes a lot of labor."
Finlay's transformation into a wooden hot tub artisan was a "total accident." He built one for himself, simply because he wanted one. Before long, he was building them for friends and neighbors who admired his craftsmanship. Then calls from people looking to buy one of his hot tubs started coming from farther away.
"So I thought, if I'm going to do this, I might as well make a profit," he says with a laugh.
Finlay, who grew up on Long Island, N.Y., is self-taught. He read all kinds of books on the subject to learn what tie could about pumps, heaters and filters. By 1996, SeaOtter WoodWorks was born.
Since that time, the company has grown. Finlay has added three employees and expanded the product line to include ofuros, or Japanese baths. He even traveled to Japan to study their designs.
"There is a niche market for Japanese baths," Finlay says. "We make a limited number of them. Because of the feng shut movement, things that are Asian are working their way into American architecture."
With SeaOtter WoodWorks now firmly established, Finlay says he has no intention of trying to compete with the bigger hot tub companies. "We are a niche within a niche," he notes.
What makes his company special, Finlay points out proudly, is that it only works with local materials, which he hopes will provide a shot in the arm for the town's timber industry.
"We have two types of cedar that we use: Western red and Alaskan yellow," he says. "It's all local trees, and it helps support an industry that is not doing well right now."
Finlay explains that using the local wood for products such as his adds value to the trees. "It's better for [the timber industry] than making paper and two-by-fours"," he says. "It's a high-value product, and it is the future."s